Job Spotlight: Deli Clerk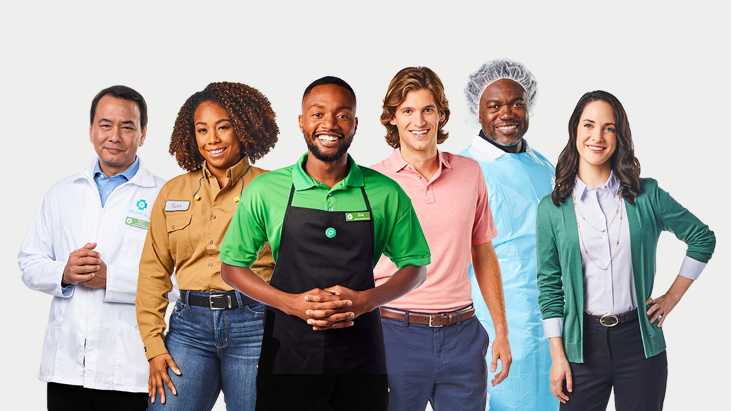 You might know and love the deli for our hot fried chicken, freshly sliced meats, specialty cheeses and Publix deli subs. But have you met the associates behind the counter? Our deli clerks are passionate about providing customers with quality food and premier service. We spent some time with one of our deli category managers, Ali Polat, who shared what makes a role model deli associate and some of the advantages of working in this department.
Meet Ali, Deli category manager.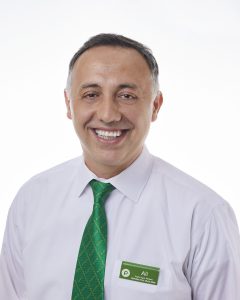 Ali is a category manager within our deli retail business unit (RBU). The members of the RBU collaborate to set sales and profit goals for our deli products, then strategize plans to achieve them. Associates in the deli RBU leverage their product expertise and solid relationships to stay up to date on industry trends and consumer behavior. They use this information to make recommendations related to products and services our Publix delis should offer.
Ali and his team are an integral part of our deli operations, and he's an example of our promote-from-within culture. Like many associates within the deli RBU, he got his start working behind the deli counter.
"Thirteen years ago I came to the United States not speaking much English, and I didn't have any experience in the grocery industry," Ali shared. "I applied to work in Atlanta, GA, at the Publix in Midtown and was offered an opportunity as a utility clerk, washing dishes and performing other custodial duties. I started to learn more English and began communicating well with customers. I truly enjoyed helping people. My management team became really invested in my success and encouraged me to work toward becoming a manager. They helped give me the skills and experience I needed to make it happen."
Ali spent several years working as a deli manager, improving sales and operations at each of the delis he managed. He was eventually promoted to a deli retail improvement specialist (RIS), where he had the chance to train managers and help improve deli operations across several districts. Ali said he learned a lot as a RIS, but his dream was always to work in the RBU and learn about how things worked behind the scenes. It wasn't long before he was promoted to a buyer, and later a technical specialist, before becoming a category manager.
Becoming a deli clerk
It's no secret that working in the deli can be a challenge. It is a fast-paced environment where deli clerks are responsible for serving customers, rotating fresh product, keeping the department clean, cooking, frying and more. Ali told us, "I'll never forget when I applied at Publix and they asked me which department I wanted to work in, I said 'anywhere but the deli.' But I'm so happy I trusted the manager who encouraged me to give it a try. It changed my life."
If you're a hard worker, have an interest in management and have food handling experience, apply online to become a deli clerk at your local Publix. Here are some of the benefits of becoming a deli clerk:
Set yourself up for management. After becoming full time, and spending six months in this role, you are eligible to register your interest in becoming a deli manager.
Learn industry food safety standards.
Become a subject matter expert on our deli products.
Use your creativity to dynamically sell deli products like our specialty cheeses.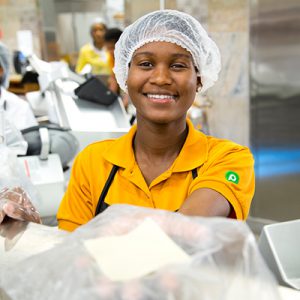 We asked Ali what makes a role model deli clerk. He explained: "The best deli clerks have amazing customer service skills and know how to build relationships with their customers and coworkers. Being a deli clerk means always doing what's right for the customer and working hard to improve yourself and your department. They are usually the go-to for questions because their coworkers can count on them to know the answer, or at least know where to find the answer. A role model deli clerk is ready for the next step in their career."
If you're interested in becoming a deli clerk at Publix, Ali's advice is to always have an open mind, don't be afraid to ask questions, focus on self-improvement and the art of serving, and always treat your customers and coworkers the way you want to be treated. It doesn't take the person with the most skill or experience to be successful in this department. "Publix is an amazing school," Ali shared. "Our company will not only teach you how to do your job better, if you allow it, Publix will also teach you how to become a better person. In my experience at Publix, no one has ever judged me based on where I came from, what my background is or who I know. They only judge me on my performance and work ethic."
Ali is one of many associates who worked their way up from entry-level roles into senior positions. Did you know that even our CEO started out at Publix as a bagger? If you're ready to take the first step in your career, apply online using our Talent Application Gateway.
Follow our Publix Careers channels on Facebook, Instagram, Twitter and LinkedIn to connect with our recruiters and learn more about what makes Publix a great place to work.
---