Beginning Your Publix Career at a Young Age
By Griffen J. | September 8, 2021
Are you a high school student looking for an after-school job? Publix has many opportunities for high school students who are looking for a great place to work. Whether you are looking to earn some extra cash or for a new job at a company that allows you to grow a long-standing career, Publix offers flexible schedules and a safe work environment. Here are some ways you can benefit from joining the Publix family as a high school student.
Opportunities at Publix.
Did you know you can start working at Publix as young as 14 years old? We begin hiring for our front service clerk (bagger), floral clerk and cashier positions at 14 and for our bakery clerk, grocery clerk and produce clerk positions at 16. Job availability will depend on each individual store's needs for these positions.
As you can imagine, many Publix associates started their careers as teenagers. In fact, 30,000 current associates started with Publix as teenagers and continued to build their careers with the company. These 30,000 associates are spread throughout the company in 104 different job categories, ranging from CEO to cashier. A third of all current store managers and 47 pharmacists started working for Publix as teenagers. The average tenure for a store manager who started their journey with Publix as a minor is 24 years! Publix is a great place to work as a teenager and an even better place to start a career.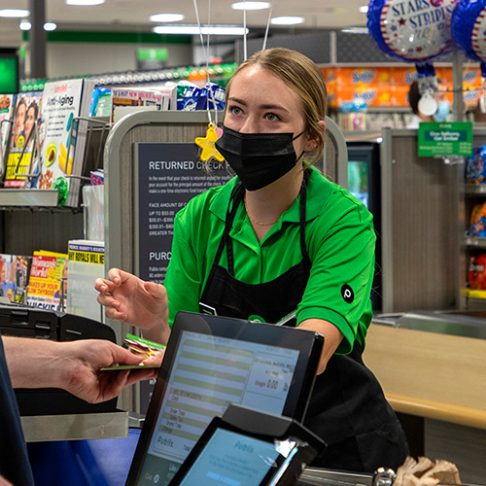 We want our associates to enjoy being in our stores as much as our customers do. That's why we encourage associates to refer their friends to join the Publix family to make their work experience more enjoyable. Additionally, we offer tuition reimbursement to associates who have worked with Publix for a minimum of 10 hours a week for six months. This is a great benefit for teenagers pursuing a college education while beginning their Publix careers!
High school outreach efforts.
Not a student but know one? High school outreach is a key piece of Publix's core values. Reaching out to high schools is just one of the many ways Publix aims to make a positive impact on the community. Recruiting specialists from Publix travel to schools around the Southeast, hosting several different outreach events such as career fairs, dress-for-success presentations, resume-building tips and mock-interview workshops.
This outreach also includes partnerships with organizations like DECA Inc. and Junior Achievement. DECA Inc. is a not-for-profit organization that supports students by providing business-related learning opportunities such as conferences and competitive events. Junior Achievement is a similar organization that allows students to work with and benefit from the experience of community volunteers.
Next steps.
If you're a high school student interested in connecting with Publix, we have several ways for you to do exactly that! Connect with Publix by registering for an account on Tallo, a job board for high school students, and add Publix to your interests. You can also engage with us on Facebook, Instagram, Twitter and LinkedIn.
Ready to join the Publix family? Visit apply.publix.jobs and fill out an application. We recommend stopping by your local Publix and introducing yourself to a store manager or assistant store manager; they will be happy to meet you and answer any questions you have about starting your Publix career!
---
Stay connected with community happenings.