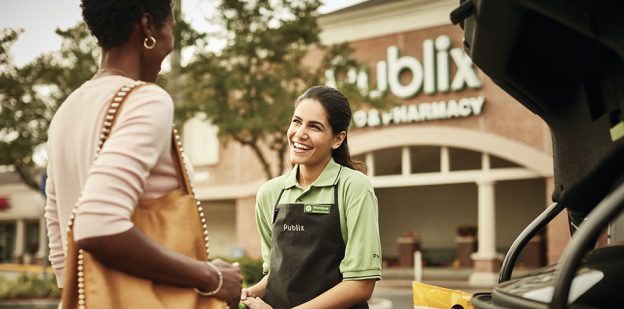 Holidays Mean Hiring Season
By Jazmyn M. | November 8, 2019
If you are seeking employment that is temporary, but fulfilling, Publix is the place for you!  It's a great way to meet new people in the community and work alongside friendly faces.  Whether you're a northerner traveling to the Sunshine State to escape winter's cruel bite or a local looking for a way to earn extra money this holiday season, consider a seasonal opportunity with Publix.
Our seasonal associates help keep our stores running when business booms through the holidays. Our delis and bakeries get busier, our shelves need to be restocked more often, and more customers mean more checkout lanes must be open. We are looking for new seasonal associates with a passion for serving people to help us provide premier service to our customers.
With hard work and dedication, a seasonal position could lead to full-time or part-time opportunities at Publix. Read about some of our associates who started working for Publix seasonally and made a career out of the opportunity!
Seasonal Success Stories
Romina started as a seasonal bakery clerk at store 1454 in Hollywood, Florida. She heard from friends and family about Publix being a great place to work and fell in love with the Publix culture once she started as a temporary associate. Since then, she has kneaded her way into a career as a full-time baker.
John in Vero Beach, Florida, started as a seasonal grocery clerk at store 1150. He hoped the temporary assignment would turn into something more, and during his seasonal employment, he became interested in the meat department. His work ethic and positive attitude opened quite a few doors, and he is now a full-time meat cutter.
Our customers already know Publix is a place where shopping is a pleasure, and our seasonal associates quickly see that working at Publix is also a pleasure. Whether you're in Florida for a few months this winter or hope to make a career at Publix, consider a seasonal opportunity where you can help make a positive impact on our customers during the holidays.
Ready to get started? Apply online today! You might also consider attending one of our upcoming seasonal job fairs for an interview. This year, we are hiring seasonal associates in the following South Florida cities:
---