Meet Maggie, Publix Associate & Special Olympic Athlete
At Publix, it's important for us to be involved in our communities. We have relationships with several community organizations across our operating areas. One of the organizations close to our heart is Special Olympics. Each January, Publix associates and customers come together to raise awareness and funds for Special Olympics. However, did you know many of our associates are directly involved with this organization too? Today, let's meet a Publix associate who is heavily involved in the Special Olympics.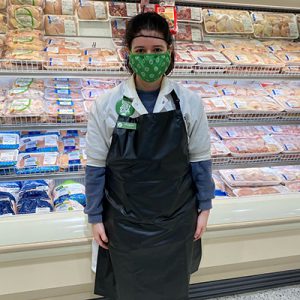 Maggie grew up in Toledo, Ohio. During the summer leading up to her senior year in high school, Maggie's father was laid off from his job and found new employment in Florida. While her dad relocated to Florida for work, her mom stayed in Ohio so Maggie could finish high school.
"My parents sacrificed being together so I could finish high school," shared Maggie. "It really meant a lot to me."
After graduation, Maggie and her mom moved to Florida to reunite with her dad. Once in Florida, Maggie's dad enrolled her in a job training program at a local college.
"The program was for special education students who graduated high school and want to learn how to get a job and keep it," shared Maggie. "Publix was one of the partners of the Citrus County school district."
In the job training program, students spent three to four hours a day at job sites like Publix to gain hands-on job training. They were also assigned a job coach to teach and develop job skills and reassure them along the journey.
"My job coach was always there for me and never gave up on me. The truth is, I don't really know where I would be if it were not for her," said Maggie. "I've had a great support system; that is something that it really takes. Without the proper support, you just don't know where you're going to land."
Maggie was placed at her local Publix for job training. From her very first day in 2010, everyone treated her like family. Maggie's coworkers and managers easily adapted to her needs and supported her strengths.
Maggie spent three school years job training at Publix. The store manager at the time was responsible for giving her that first job.
"While I tried not to get my hopes up about anything, he came to me one day and said, 'I'm hearing a lot of good things about you. If you keep up this good work, I could have a job for you before you're out of school,'" shared Maggie.
A month before Maggie aged out of the job training program in 2013, the store manager offered her a job as a meat clerk.
"I'm really good with numbers. I learned where each meat goes when restocking the cooler and I wrap different cuts of meat on the scale," said Maggie.
The Special Olympics.
Outside of working at Publix, Maggie is heavily involved with Special Olympics Florida. In fact, she's been a part of the organization ever since she moved to Florida in 2010. She previously participated in basketball and currently participates in bowling, golf and softball.
"There's a lot of things I love about the Special Olympics. Everybody makes you feel like family – it's a no-judgment zone. We're not judged for our abilities or what we aren't able to do," said Maggie. "It's not about the disability; it's about what we are able to do."
For the past five years, Maggie has served as an Athlete Leader. In this role, she is a role model to help guide other athletes. Her leaders within Special Olympics Florida recognize Maggie's willingness to help others. In 2018, her County Director was in an automobile accident and Maggie was asked to fill in and help finish a Publix fundraiser. She was the perfect person to assist with this task.
"I said I'd gladly help. I utilized my connections with Publix to figure out what exactly needed to be done and how to get it done in time," said Maggie. "We ended up getting everything figured out and squared away."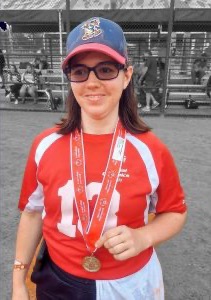 As you can see, Maggie aspires to help others. Her advice for anyone interested in starting a career with Publix is to have a positive attitude.
Interested in learning more about Publix careers? Visit us on Facebook, Twitter, Instagram or LinkedIn!